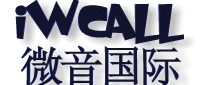 IWCALL is a mobile APP, you can use it to make phone calls worldwide, it has good voice quality.
IWCALL use unique telecommunication technology to achive good voice quality, and it uses local access number to make calls, we pass many middle operators and deliver traffic directly to customer terminal to save cost for you.
You can click "Forget password" on login interface, then follow instructions to reset password.
The way to make a call is the same to make phone call from your mobile: Dail numbers directly for local fix phone numer or mobile number, add areacode prefix to other city's fix phone number, for international call, please use format: 00 + country code + (areacode) + phonenumber, for example:0018086363966.
Besides China, you can use IWCALL in Australia, Canada, France, Germany, Hong Kong, Ireland, Italy, Japan, New Zealand, Spain, United Kingdom and United States. You can use IWCALL to call worldwide from these countries.
You will get credit recharged instantly via online banking, alipay and wechat payments.
This is because our rates price are pretty low and they reflect real fluctuation of operators' price.
Please forward invoice email to iwcall@iwcall.cn, and please mention your address & invoice title, we will deliver to you by express company and use backpay method.
You can use user panel to check call history.
If you have other question, please send us Email.
IWCALL© 2018-2022 Copyright - All rights reserved